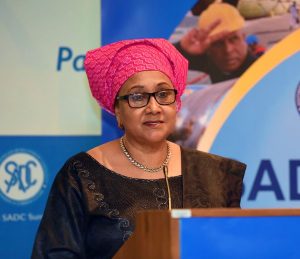 SADC to have its Legislative Parliament Soon
WINDHOEK-NAMIBIA (09/10/2020) – The SADC Parliamentary Forum will soon be transformed to a regional legislative body.
According the SADC Executive Secretary discussions between the SADC Secretariat and the SADC PF secretariat are at the advanced stage.
Speaking at the opening of the 47th Plenary Assembly Session held virtually recently, Dr. Stergomena Lawrence Tax said that the team of experts from the two bodies are finalising the roadmap to transform the parliamentary forum to the regional legislative body.
She added that the proposed roadmap will be submitted to the SADC heads of state scheduled for March 2021.
At the 39th Ordinary Summit of the Heads of State and Government of the Southern African Development Community (SADC) held in Dar es Salaam, United Republic of Tanzania, in August 2019, Summit directed the SADC Secretariat in collaboration with the Parliamentary Forum Secretariat to develop the model that the proposed SADC Parliament would assume, in terms of mandate, powers and functions; and to develop a Roadmap towards the transformation of the SADC Parliamentary Forum into a SADC Parliament.
Speaking at the same event, the speaker of the East African Legislative Assembly (EALA), Hon. Martin Ngoga said the EALA was in full support of the SADC PF in its transformation agenda. Speaking through a representative Hon. Fatuma Ibrahim (Kenya) the speaker recalled the familiarisation study visit that was made by SADC PF to the EALA in 2019.
The visit was supported by the consortium of the Public Social Accountability project (PSA) lead by actionaid International with partnership with ESAFF, PSAM, and Safaid under the support of the Swiss Agency for Development and Corporation (SDC).
The SADC PF 47th Plenary Assembly was convened under the theme: "The Role of Parliaments in Strengthening Accountability during a pandemic: The Case of COVID-19."
This was the first time that a SADC PF Plenary took place virtually.
SADC PF Secretary General Ms. Boemo Sekgoma said the theme of the Plenary was based on the role of parliaments and accountability during pandemics such as COVID-19.
The session that was moderated by Ms. Yapoka Mugandi was officially opened Honourable Dr Nangolo Mbumba, the Vice President of the Republic of Namibia.
The proceedings was live-streamed on Facebook and YouTube, thus enabling citizens to follow on social media.
Ends