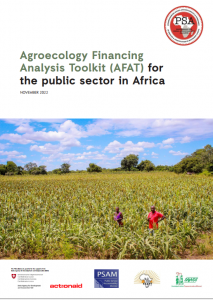 The Agroecology Financing Analysis Toolkit (AFAT)
ESAFF, and ActionAid under the Public Social Accountability (PSA) Alliance, funded by SDC launched an innovative tool in November 2022 to assess the degree to which national budgets and overseas development assistance (ODA) in Africa support a transition to agroecology. The tool went through several revisions, based on input from an advisory group of experts including FAO, BioWatch, CCARDESA and Environmental Monitoring Group, as well as a community of practice facilitated by the Coopération Internationale pour le Développement et la Solidarité (CIDSE) and Centre for Agroecology, Water and Resilience (CAWR) at Coventry University.
Pilot studies conducted in Zimbabwe and Malawi and at SADC level showed that while policy commitments claim to support agroecology, the actual flow of resources is widely insufficient.
The AFAT tool in April and may is utilized to analyse agriculture policies and budgets in Tanzania and Zambia
The tool has also been posted on the FAO Knowledge Hub and has also been used by activists outside the project for climate change policy analysis in South Africa.
AFAT on the FAO Knowledge Hub. https://www.fao.org/agroecology/database/detail/en/c/1627153/
Download here