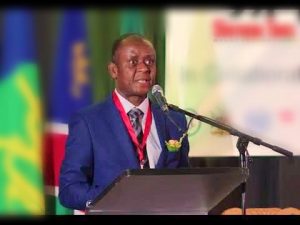 SADC Heads of state to discuss the 2nd Agriculture Review Report
Gaborone 15/10/2020
The Southern Africa Development Community (SADC) is sparing no effort to ensure that the African Agriculture transformation report on Malabo goals is shared at all level.
The SADC Food, Agriculture and Natural Resource (FANR) Director says the second Malabo Biennial Review Report dialogues will continue at all level in SADC.
Dr. Dominos Gove says the report will be submitted to the SADC Council of ministers and eventually to the SADC heads of state summit. According to SADC secretariat, the next SADC heads of states summit is planned for March in 2021 in Mozambique.
Mr. Gove was speaking at the SADC Compressive African Agriculture Development Program (CAADP) stakeholders meeting that was held virtually to review the regional performance on the Malabo Biennial Review Report 2020. The Report is part of the accountability mechanism where African countries are committed to report how countries are implementing the heads of state decision on transforming agriculture.
According to the Malabo report availed in February 2020, only 4 countries in the continent are on track to achieve the Malabo 7 goals by 2025. These are Rwanda, Morocco, Mali and Ghana.
Mr. Gove said the report on agriculture should be taken serious as SADC block is NOT on track to achieve the Malabo agriculture transformation goals by 2025.
He added that the SADC region is experiencing the worsening food insecurity situation where by about 45 million people are food insure. The food insecurity situation in the region is exacerbated by COVID -19 pandemic which has not spared most of SADC member states" said Dr. Gove.
Speaking at the same event, the African Union Commissioner for Agriculture and Rural Economy HE. Josefa Sacko said was delighted to see the regional economic groupings like SADC, taking a lead in discussing and disseminating the Malabo Biennial Review Results. She said that will help countries improve their performance in the agriculture sector.
The Malabo goals commits African states to ensure that they invest more in the agriculture sector (at least 10% of national budget annually) and ensure growth of the sector to 6%. Other goals are to end hunger, halve poverty, triple intra African trade and increase farmers resilience to climate variability.
The meeting received presentations on the Malabo Biennial Review reports from the AUC representative Mr. Komla Bissi as well as Mr. Greenwell Matchaya of Resakss and CAADP focal persons from Botswana, Zambia, Lesotho, Madagascar, Malawi, Mozambique, South Africa and Zambia.
Speaking from Morogoro, ESAFF Coordinator Mr. Joe Mzinga, called for SADC to formulate the Joint Agriculture Rector Review (JASR) mechanisms that would cut across from SADC level to national level in which all stakeholders would be able to plan and evaluate the agriculture sector performance in a more systematic way like what Rwanda is doing.
The event that was attended by more than 70 participants was chaired by Mr. Dugue Wilson from Mozambique and moderated by Mr. Duncan Samikwa of SAD FANR.