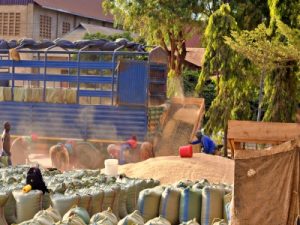 HOW TANZANIA MANAGED TO SUSTAIN FOOD SECURITY DURING A PEAK OF COVID-19 PANDEMIC
Tanzania managed to sustain food security during a peak of Covid-19 pandemic by keeping largest stock of food comparing to other countries in Eastern and Southern Africa.
As many countries were hit by shortage of food after they implemented the lockdown, Tanzania had plenty of food in its reserve.
During that time, mainly from early last year, the country even sold some of food crops to countries suffered from food shortage such as Malawi and South Sudan.
This was stated by Eastern and Southern Africa Small-scale Farmers Forum (ESAFF) Coordinator for East and Southern Africa, Joseph Mzinga during an interview with the Daily News.
Mr Mzinga attributed the achievement to the boldness of the President John Magufuli, saying the President was firm and insisted his people to continue working hard and look at the disease like other diseases while taking all precautionary measures.
The President was repeatedly telling Tanzanians not to consider the lockdown, arguing that the move would have worsened the situation.
The ESAFF, in collaboration with University of the Western Cape, South Africa and Ardhi University, is currently conducting research in South Africa, Ghana and Tanzania on food situation, under the sponsorship of International Development Research Centre (IDSC).
"However we are grateful that despite the challenges of food security facing other African countries during the period of the Covid-19, Tanzania was self-sufficient and reached it reached at a point where it decided to sell it to other countries," said Mzinga.
Mzinga said the objective of the research is to inform policy makers at the national and international levels so that they put in place a better food security system and to eliminate food insecurity in the future in the event of an outbreak of diseases for mitigating the impacts.
"Not only Covid-19 but it will also help in the fight against malnutrition and stunting where there are millions of children in Africa suffering from the problem, for instance, Tanzania stunting is at 30 percent," said Mzinga
In addition, apart from helping the country reserve food, he said, this year there will be a major UN summit on food systems in African countries, so it will serve as one of the platform to tell how Tanzania is tackling the situation.
He said the research, which started in September last year, is being conducted for one year and is expected to be completed September this year and will come up with strategies on how African countries will be able to strengthen their food security system for its citizens.
Mzinga said in Tanzania the regions which have been selected for the study are Mwanza, Dar es Salaam, Arusha, Kahama, Dodoma and Mbeya.
The research includes visiting major food markets in those regions. The crops under consideration are grains, fruits, fish and meat.