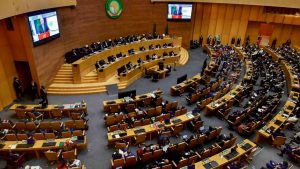 Activists call for fairer terms at EU-AU summit
The sixth Europe-Africa summit taking place in Brussels, Belgium, this week risks entrenching inequality between the two continents unless deliberate steps are taken to rebalance relations, civil society activists have warned.

In a two-day webinar ahead of the EU-AU summit, activists heard that key priorities for Africa, including debt relief and progressive trade rules, are unlikely to be met under the current negotiation framework.

Jane Nalunga, an expert with Seatini, an NGO which works to promote fair-trade in Eastern and Southern Africa, accused the EU of "balkanisation" by "forcing" individual African countries to sign bilateral Economic Partnership Agreements (EPA).

These EPAs, she said, undermine the African Continental Free Trade Agreement (AcFTA) which came into effect in 2021 but is yet to fully get off the ground.

She cited an example of the East African Community where, instead of negotiating with the regional trade bloc, the EU had strong-armed first Kenya, and then Tanzania, to sign bilateral EPAs with it.

With its two largest economies already in hook with the EU, EAC member states are unable to collectively negotiate better terms, Ms Naluga said.