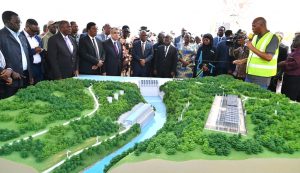 Hydropower boosts country opportunity on SADC
With the construction of the Julius Nyerere hydropower project, Tanzania stands a better chance of implementing Southern African Development Community (SADC) agenda on trade and industrialization, experts have observed.
The experts aired their views as the SADC precedings meetings of the ordinary summit are ongoing in the city at which Tanzania hands over chairmnaship to Mozambique
University of Dar es Salaam (UDSM) senior Lecturer, Prof Mohamed Bakari argued that in order to promote trade and industrilization within the SADC member states should emphasize on investing on energy.
"Tanzania is now doing well in investment on energy, with massive investment on the Nyerere hydropower project" Prof Bakari stated yesterday
He was among presenters during a virtual workshop which brought together media practitioners, government officials and non state actors. The workshop was organized by the Eastern and Southern Africa Small Scale Farmers Forum (ESAFF) together with Southern Africa Trust (SAT) and support from GIZ
It was intended to contribute towards strengthening non state actors and media reporting and engagement on SADC national and regional policy processes in the country.
it also aimed at building capacities of non state actors and media on the status of policy processes in the SADC region in the ares of industrialization, Agriculture and Trade. Prof Bakari further said the member the member countries also need to invest more on infrastructure as pillars of boosting trade within the region
However, he said the private sector has to play a pivotal role in investing and that strong engagement of the private sector players is needed in order to acgieve this.
"if the private sector and non state actors could really engage it could reduce dominance of politicians on the matter" he stated.
Commenting on the SADC agriculture agenda, Focal point of the comprehensive Africa agriculture development programme (CAADP) at the Ministry of Agriculture, Ms Dainess Mtei said for the regional bloc to succeed the issue of how to enhance participation of national stakeholders on SADC agriculture agenda was crucial.
The sector contributes about 4 percent to 27 percent of the region's Gross Domestc Product (GDP) and its accounts for over 95 percent of food security. she said at national, Tanzania has several policies and programes that were aligned to the SADC agriculture agenda, among others the Agricultiresector development II (ASDP II)
She argued that agriculture sector needed stronger national coordination in order to maximize the outcomes and results
Read the original article here