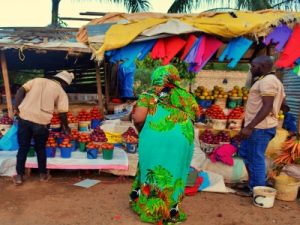 Food security: Lessons from virus on production systems
COVID-19 some research institutions in Tanzania, Ghana and South Africa are studying the situation before, during and after the Cavid-19 outbreak
The pandemic led to an inadequate supply of foodstuffs such as wheat, fish, edible oil and rice from source countries in Asia and Europe
Dar es Salaam. Despite the impacts of Cavid-19 in different sectors, there have been some blessings in disguise, one being Africa getting to understand its strengths and weaknesses in its food production systems and hence setting up measures to eliminate food reliance on imports.
The pandemic led to an inadequate supply of foodstuffs such as wheat, fish, edible oil and rice from source countries in Asia and Europe due to closures of borders as well as travel and transportation restrictions
The impacts of the disease on the accessibility as well as disruptions of supply chains attracted research institutions in Tanzania, Ghana and South Africa to study the situation before, during and after the Covid-19 outbreak.
The institutions are Ardhi University (ARU) which is collaborating with South African-based Western Cape University, the Eastern and Southern Africa Small Scale Farmers Forum (ESAFF) under the funding of the International Development Research Centre (IDRC).
Speaking to The Citizen, Mr Joseph Mzinga, the regional coordinator of ESAFF noted that the institutions commenced research from September, 2020, with next September being the deadline.
"The main focus will be food production and marketing in Shinyanga, Morogoro, Dodoma, Arusha and Mbeya regions with cereals, fruits, fish and meat being the main target among consumable. Our researchers will hold interviews with farmers and traders" he said
He said the project aims to come up with evidence-based suggestions that will inform policymakers at the rational level, the East and African Community (EAC) and the Southern African Development Community (Sadc) on the need to build strong systems for provision of food assurance during and after outbreak of contagious diseases like Covid-19.
However, he said despite food consequences to many countries in Africa, Tanzania had surplus food that was then sold to EAC and Sade member countries
"The outbreak of Covid-19 has probably taught many African countries on the need to implement requirements of the Malabo Declaration to set aside funds of up to 10 percent of the national budgets annually for development of the agricultural sector," he said, adding. This will ensure the continent with increased food production, contain hunger, alleviate poverty and reduce malnutrition and stunting among millions of children. Statistics show that there is a staggering percentage of stunted children in the country"
He said research findings will also trigter debate at the United Nations Food and Agriculture Organization (Foo) 2020 summit on food systems slated to take place in New York in October this year.
According to him, food security was a world agenda because despite its availability, about 690 million people in Asia and Africa are facing an acute food shortage. Speaking to The Citizen, Mr. Enock Kimwayeya, 47, a trader at Mabibo Market in Dar es Salaam,
"We could have done more business if the outbreak occurred during inadequate supply" Lunda|Tandale trader said Covid-19 called for social distancing as part of health precaution which significantly affected businesses and availability of customers
He said price of the products significantly declined, saying a sack of round potatoes had to be sold at Sh 25,000 down from between Sh50,000 and Sh 65.000
Mr Kimwayeya said, as a result, retailers were also forced to generated between Sh.45,000 to Sh.50,000 Instead of the previous Sh.85,000 per sack
A fish vendor in Dar es Salaam, Ms. Zainabu William, 56, said hiked price of edible oil she uses for frying fish due to decline of production by respective firms was another hurdle during Covid-19 "Customers' availability dropped significantly reducing daily earning to Sh50.000 down from Sh. 150,000 recorded before the outbreak" she said, adding
"Having been doing the business since 1988, enabling me to take my children to school it was difficult for me to abandon the business despite the challenges recorded."
However, as other businesses saw negative impact others thrived. A trader of ginger and gar lie fasting at the Temeke Stereo Market, Ms. Mariam Bonjwa, 30 said her business during Covid-19 due to clients buying her products as preventive measures
In the past, a bag of 100 kilogramme of ginger and 50 kilo of garlic fasting were sold in three and four days respectively. However, the same amount was sold in just a day during the pandemic, she said,
Mr. Hamis Siri, 57 a trader of lemon fruits at the same market said limes were highly demanded during the pandemic and that some customers purchased in large amounts
"Good enough, the disease broke at a season of plenty lemons. We could have done more business, If the outbreak occurred during inadequate supply," he said, adding "Mr. Rogers Lunda, 50, of the Tandale Market, said the business at the market highly fluctuated, saying they experienced hard times between November and January
"There were times products ended up rotting. I was forced to sell yellow maize at Sh500 per kilo despite the purchase price being Sh700 per kilogramme, therefore accounting for a huge loss," he said.
"I'm a Standard Seven leaver therefore I have no alternative in choosing what should do. Despite the hardship I went through that time I was forced to be patient service loans and protect my business capital," he added
However, he said Covid-19 has taught him the need to observe personal hygiene including frequent hand washing that prevented people from contracting infectious diseases like cholera
According to him, the importance of savings was another lesson during the pandemic, saying failure to save something from daily or monthly earnings subjected most Tanzanians to serious troubles during the pandemic.
Author: By Louis Kolumbia THE CITIZEN