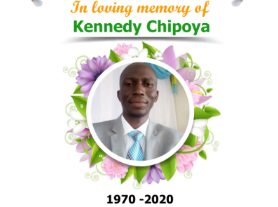 ESAFF Mourns the pass on of its Zambia Chairperson
ESAFF is mourning the Chairperson of ESAFF Zambia Mr Kennedy Samujimu Chipoya who passed away on the 10th August 2020 after a short illness.
The late Chipoya was born on 18th June 1969 in the touristic town of Livingstone, in Southern Province of Zambia. He had his early education in his native Copperbelt Province where he had his primary school at Masamba Basic School before joining Chavuma Secondary School where he graduated from.
He was locally known for his community mobilization skills, good public relations and his interest in farming. In 2019 he served as the PTA Treasurer at the Nkana Basic School in Lufwanyama and in 2000 under the tutorage of CARE International CULP Project, he was trained as Farmer Extension Facilitator. He was later, under CARE international, to undergo further training in Financial Management, Horticulture and Livestock Production and Conflict Resolution.
He was well known and respected by the general public especially in his home district for his community service and dedication to uplifting the livelihoods of small-scale farmers. Due to his growing popularity at local level, the then Ruling MMD Party adopted him to stand as a Councillor in Sokotwe Ward where he won and went ahead to be elected as the Mayor of Lufwanyama for the period 2011/2016.Despite his heavy duties as the Mayor of Lufwanyama he continued to support ESAFF Zambia and small scale farmers in every forum that presented itself. He travelled widely in East and Southern Africa countries and effectively campaigned for the rights of small-scale farmers both at SADC and COMESA levels.
Mr Chipoya was one of among the trustees of ESAFF Zambia having joined the organization in 2005 and was later to be elected the Chairperson in 2015, a position he held until his death. As the Chairperson worked hard to ensure that ESAFF Zambia remained afloat even at times of turbulence, sought and respected the opinion of fellow Board Members. He will be remembered for good working relations with partners, CSOs and Government Ministries. As a member of the ESAFF Regional Board, he was able to solicit support for ESAFF Zambia through joint efforts with other Regional Board Members. Early in the year and through his able leadership, ESAFF Zambia was able to open and now operates from own office. The membership of ESAFF Zambia had in the recent past started to grow and the visibility of ESAFF Zambia enhanced. He shall be remembered for his selfless dedication to the cause of small-scale farmers as he was one himself.