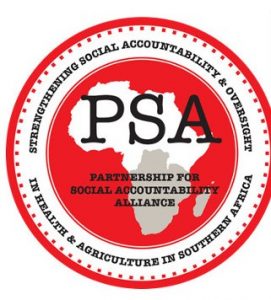 Innovative project promoting accountability in public services expands to Zimbabwe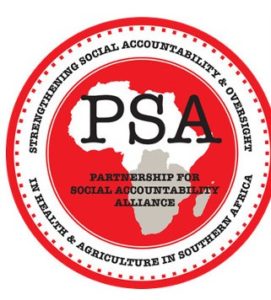 16 October 2019 – An innovative project, holding governments across southern Africa to account for providing quality public services in health and agriculture is expanding into Zimbabwe.
Launched in 2016, the Partnership for Social Accountability (PSA) Alliance has worked at the district and national levels in Malawi, Mozambique, Tanzania and Zambia, and regionally in the Southern African Development Community (SADC). Following a successful first three years, the PSA Alliance is now expanding its reach to include Zimbabwe.
Reflecting the United Nations' Sustainable Development Goals (SDGs) agenda, the multi-stakeholder regional project builds the capacity of state officials and parliamentarians to more effectively manage public funds. The PSA Alliance supports efforts by civil society organisations, small-scale farmers and the media to hold their leaders to account for the provision of gender-responsive public services.
The PSA Alliance is led by ActionAid International together with Public Service Accountability Monitor (PSAM), Eastern and Southern Africa Small Scale Farmers' Forum (ESAFF) and SAfAIDS, and supported by the Swiss Agency for Development and Cooperation (SDC).
Anne Jellema, acting Secretary General of ActionAid, says: 
"The first phase of this project demonstrated the inspiring changes that happen when citizens hold government to account. In Tanzania and Zambia, more young people are benefiting from sexual health services, while in Mozambique, better agricultural support is helping farmers grow more food. The project also incubated a new parliamentary budget office in Malawi that could make a major impact on corruption and waste. We look forward to even bigger achievements in phase 2."

Jay Kruuse, Director of PSAM, says:
"Social accountability is essential to democracy. Government has a responsibility to manage public resources effectively. Citizens have a right to demand explanations and justifications for how public funds are used. The PSA Alliance has made great strides in assisting both sides to fulfill their accountability roles. We look forward to the next four years."
In the area of health, the PSA Alliance is improving HIV and sexual and reproductive health (SRH) services for adolescents and young people, with a focus on adolescent girls and young women (AGYW).
Rouzeh Eghtessadi, acting Executive Director of SAfAIDS, says:
"We applaud the commitment of SADC Member States to provide comprehensive SRH services to adolescents and young people, as reflected in the SADC Sexual and Reproductive Health and Rights (SRHR) Strategy (2019-2030).
 "However this strategy can only be effectively realised where national governments ensure their domestic policies align with the strategy, commit to prioritising and funding quality, affordable, accessible and available SRH services, manage the funds accountably and transparently, and institute service delivery practices which are free of stigma, judgement or discrimination, and are gender sensitive."
In the area of food security, the PSA Alliance focuses on the provision of agricultural public services (including input and extension) for smallholder farmers.
Joseph Mzinga, Regional Coordinator of ESAFF, says:
"Smallholder farmers, the largest food producers in Southern Africa, have been consistently left out of regional and national agricultural planning and budgeting.
"The 2004 Dar es Salaam Declaration on Agriculture and Food Security in the SADC Region has been long neglected by SADC leaders, including at the recent SADC Summit. As a result, agricultural support programmes have historically failed to curb food insecurity, as seen in the decline in regional food production in the 2018/19 crop season.
"Agricultural support must be responsive to the needs of smallholder farmers – particularly through ensuring they promote agroecology and community-based seed systems."
The second phase of the project is being launched in each of the five project countries throughout October and November 2019.
For images and interviews about the PSA Alliance contact Julie Middleton, consortium project manager at ActionAid julie.middleton@actionaid.org or +27 82 403 6040
The PSA Alliance consists of: PSAM – Public Service Accountability Monitor, Rhodes University – www.psam.org.za; SAfAIDS – www.safaids.net; ESAFF – Eastern and Southern Africa Small Scale Farmers' Forum – www.esaff.org; and ActionAid – www.actionaid.org.