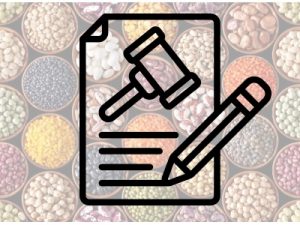 EAC argued to embrace Farmer Managed Seed System in her Seed Bill
Smallholder farmers and civil society have called for the East African Community (EAC) to embrace farmer managed seed systems (FMSS) as a solution against hunger, malnutrition and loss of biodiversity.
They were speaking at the East Africa Seed Webinar which brought together more than 120 participants including high-level officials from AU and EAC.
Mr. Hakim Baliraine, a farmer from Uganda said that despite the fact that majority of smallholder farmers that feed millions of Africa use their own seed- farmer managed seed system, the sector is threatened by speedily loss of biodiversity, lack of recognition and support from public sector, climate change and pollution from other seeds.
He said research reports confirm that between 70- 90% of farmers in Africa rely on seeds from the "informal" Farmer Managed Seed System (FMSS).
Participants recommended that the EAC Seed Bill should accommodate Farmer Managed Seed System before is finalised.
Mr. Fahari Gilbert Marwa – Head of the EAC's Agriculture and Food Security Department. Said that the process to put in place the EAC Seed and Plant Varieties Bill started back in 2017.
He said "The Bill will be finalised by EAC council of ministers in November 2022 and forwarded to the East African Parliament (EALA) for a yearlong debate from December 2022 before is approved in December 2023".
Participants urged the EAC as a first step, in its legal processes, to recognise the role of FMSS and its contribution to agricultural biodiversity, food security and nutrition and numerous values that is provides.
They added that, "EAC must borrow a leaf from South Africa, a country that regulations offer some degree of regulatory space for the continued existence of farmer seed systems, and the right to reuse, exchange and sell seed, as also set out under Article 9(3) of the ITPGRFA and Article 19(1) (d) of the UNDROP"
Ms. Anne Maina from Kenya said that unpresented battle is currently being waged over Africa's seed systems. She added that "the race to own and monopolise the seed sector by private entities for their own benefits, has taken another turn using legal fronts".
She added that: It is obvious that multinational private seed industry has made dramatic inroads in sub-Saharan Africa and numerous private and public interventions are underway to restructure and 'modernize' seed systems within the context of green revolution narrative.
Smallholder Farmers noted that Farmers' seed sovereignty is also under threat due to changes by national and regional legislations.
Ms. Sabrina Nafisa of the African Centre for Biosafety (ACB) said that the UPOV 91 compliant of ARIPO Protocol for the Protection of New Varieties of Plants demonstrates a clear bias towards commercialisation of plant genetic resources, and restricts the age-old practices of African farmers to freely save, use, share and sell seeds.
She said the importance of FMSS and agricultural biodiversity are key to stop the rapid loss of biodiversity in Africa, including in the context of developing a new Global Biodiversity Framework under the Convention on Biological Diversity (CBD).
Ms. Sabrina added that "The international law provides for FMSS like International Treat of Plant Genetic Resources for Food and Agriculture (ITPGRFA) as well as the United Nations Declaration on the Rights of Indigenous Peoples (UNDROP) affirms Indigenous Peoples' right to "maintain, control, protect and develop their cultural heritage, traditional knowledge and traditional cultural expressions".
Speaking at the event Ms. Beatrice Egulu – Policy Officer, Agriculture, Rural Development, Blue Economy, and Sustainable Environment (ARBE), said the purpose of the AU Continental Guidelines for Harmonization of Seed Policies and Regulatory Frameworks is to support AU member states to align their policy and legislative frameworks in order to at least achieve some level of policy and legal frameworks equivalency and enhance mutual recognition.
However, participants said that caution must be taken when considering mainstreaming FMSS, to not prevent it from functioning in its adaptable, malleable, and innovative way.
They said that this requires structures to support seed producers and traders operating in this system and not to try to merge and enmesh these time-honoured systems into commercial seed systems and value chains.
The event recommended to both EAC and AU to promote African interests over that of global commodity value chains and corporate interests, with Africa leading the way and redefining the future of agriculture, built on dignified livelihoods, ecological integrity, and African unity; and the need to move beyond simple recognition of FMSS, through the implementation of farmers' rights to restore agricultural landscapes and use them as the vehicle for developing suitable agricultural systems for the continent and allocate adequate institutional and other resource support for FMSS on a sustainable basis and in the context of a changing climate, rapid urbanisation, agricultural extraction and widespread ecological degradation.
Farmers have the freedom to collectively adopt rules dedicated to guaranteeing the quality of the farm seeds they release within their collectives. These rules include the germinative faculty, Sanitary quality, Agronomic quality, Organoleptic quality (taste), and any other quality deemed relevant by the farmers according to their socio-cultural context.
ESAFF in collaboration with AFSA and support from Rosa Luxemburg Foundation organised the East Africa Seed Webinar which brought together participants from Burundi, DRC, Kenya, Rwanda, South Sudan, Tanzania, Uganda and other African countries.