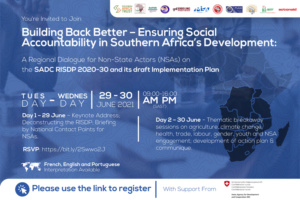 A Regional Dialogue for Non-State Actors on the SADC RISDP 2020-30 and its draft Implementation Plan
The dialogue aims to raise awareness among non-state actors (NSAs) of the adopted SADC Vision 2050, and the SADC RISDP 2020-2030 and its draft Implementation Plan.
●Convene space for NSAs to exchange ideas on the implementation of the RISDP, in the context of the Covid-19 crisis and post-pandemic recovery.
●Support NSAs to develop recommendations and actively engage their governments to inform national RISDP implementation plans, with a focus on ensuring the SADC region can build back better through strengthening resilience, social accountability and gender responsiveness.
Download the concept note here;