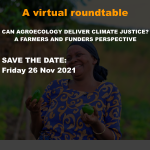 Virtual roundtable: Agroecology as a pathway towards (rural) climate justice and resilience in Africa
26 November 2021,

Join us on 26 November for the virtual webinar ' How Can Agroecology Deliver Climate Justice in Africa ? A Farmer's Perspective hosted by The Eastern and Southern Africa Small-scale Farmers Forum (ESAFF) and Southern Africa Trust (SAT) in partnership with Climate Justice- Just Transition Donors Collaborative.
Despite landmark programs like the Comprehensive African Agriculture Development Program (CAADP) and Maputo Declaration 2005 and Malabo Declaration 2014, Africa still net food importer, hungry and poor amid climate change and COVID-19. Recent Statistics by FAO shows there is a growing poverty, hunger and malnutrition in Africa 227 Million people. To explore the challenges and possible solutions, a pan African webinar is organised on 26/11/2021. The webinar will bring together about 200 small scale farmers farmers and their organisations from East, West, Central and Southern Africa as well as civil society, donors and multinational organisations. The webinar will revisit the just ended UNFSS and the COP26 in African context and come out with concrete action plans.
The specific objectives of the event are:
To learn mutual perspectives and get the opportunity to connect among grassroots actors and different movements.
To showcase our work and convey assessment of needs and gaps in the field, and what funder's support could fill at local/regional and international level
Funders, to have a better understanding of key debates and a diverse range of perspectives on farmer's needs, climate change and agroecology practices
Register Now
Download the Concept Note