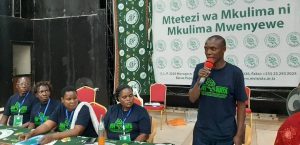 Tanzania New farmer Leader Call for Smallholder Farmers to uphold unity and solidarity.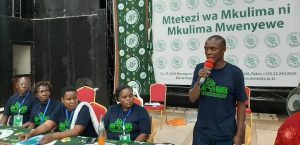 The newly elected Chairman of MVIWATA Mr. Apolo Chamwela has urged smallholder farmers in Tanzania to continue upholding MVIWATA's motto of THE DEFENDER OF THE FARMER IS THE FARMER.
He called for strengthened unity and solidarity among smallholder farmers and denounce statements, actions and deceptions that undermine the interests of smallholder farmers in the country.
Speaking after his election at the 25th Annual General Assembly of MVIWATA, the largest smallholder farmer network in Tanzania, Mr. Chamwela said that lack of unity would undermine the development and prosperity of MVIWATA and farmers voices in policy processes.
The 25th Annual General Assembly of MVIWATA was held in December 2020. It was inaugurated by the Speaker of the Parliament of the United Republic of Tanzania Hon. Job Ndugai who commended MVIWATA for its good job.
Along with other agendas, delegates elected 9 new Members of MVIWATA Board of Directors in accordance with the Constitution and rules of MVIWATA.
MVIWATA Executive Director Mr. Stephen Ruvuga congratulated the newly elected Board of Directors for being trusted by members to lead the organization built on faith, hope as largest and unique space for smallholder farmers in Tanzania.
Mr. Ruvuga thanked the outgoing leadership led by Mr. Abdul Gea for leading MVIWATA with the utmost honesty and integrity to achieve the current successes.
He said that smallholder farmers are facing myriad of challenges which will be resolved by working in solidarity at districts, national and international level through close collaborations with government authorities, stakeholders and friends of MVIWATA.