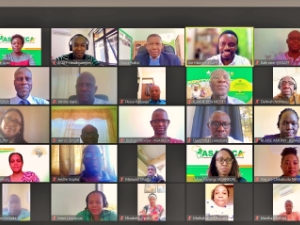 ESAFF underscores Farmers Involvement in Research Cycles
The Eastern and Southern Africa Small Scale Farmers Forum (ESAFF) Region network has underscored the need to concrete framework to define farmers' involvement in all research cycles towards understanding their community needs and recommendations. Hakim Baliraine, Chairperson of ESAFF region network, made the remarks during a recently organised zoom meeting dubbed: 'Overview of the Participatory Agroecology Research in Eastern and Central Africa that engaged several agricultural stakeholders. He said farmers' perspective in participatory research is essential as, at present, farming communities are facing multiple crises related to climate change, agrobiodiversity loss, natural resource degradation, and climate shocks.
"Participatory research recognizes that there must be a concrete framework to define the involvement of farmers in all the research cycles for impactful and sustainable agricultural research," he said. He added: " It is pressing for farmers and researchers to develop appropriate innovative solutions. In this sense, participatory research is essential to define contextualized adaptation strategies."
Dr. Baitsi Podisi, agricultural research and development expert from the Collective and Participatory Research in Small Scale Farming in the SADC region (CARDESA), highlighted gender mainstreaming in participatory research as one of the strategies to increase smallholder productivity through adoption of improved agricultural technologies, husbandry and marketing. "Women and youth are the majority of the population. They are most affected by poverty, financial exclusion, HIV/AIDS, and climate change. Focusing on them can bring the necessary transformation," he said.
According to him, most countries have policies on gender but translating them to effective action remains a challenge at national levels. Moses Odeke, technical officer at the Association for Strengthening Agricultural Research in Eastern and Central Africa (ASARECA) based in Uganda, noted that climate change has become a threat to smallholder livelihoods that has at some point led to death.
"Climate change is the threat to continued economic growth and to livelihoods of vulnerable populations in eastern and central Africa leading to poverty, malnutrition and death," he said.
"Addressing climate change impacts is critical for the realization of a climate resilient and sustainable development pathway as national government pathway and other stakeholders are realizing that agro ecological approaches promise resilient agricultural systems, " he added.
Furthermore, he noted a lack of strong and coherent policies that support the promotion of agro-ecology compared to the high input farming system as one of the challenges in promoting agroecology research.
The recent 2023 state of Food Security and Nutrition (SOFI) states that hunger is still on the rise in western Asia, the Caribbean, and all sub regions of Africa, with about 41 million people in 10 SADC countries facing hunger.
End.