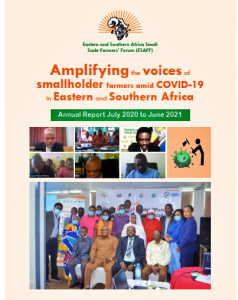 Amplifying the voices of smallholder farmers amid COVID-19 in Eastern and Southern Africa
The year 2020/21 was a remarkable year for ESAFF and 16 member organisations in Eastern and Southern Africa region. Despite the challenges brought by COVID-19, the organisation managed to implement planned activities while adhering to COVID-19 guidelines. We worked with many partners at national and regional level to influence African agriculture agenda for the benefit of smallholder farmers.
ESAFF partnered with likeminded organisations, research institutions and academia to conduct research on the impacts of COVID-19 to the political economy of African food systems. This focused on major markets in Tanzania, South Africa and Ghana, the findings show that smallholder farmers were affected by pandemic, food flow in the markets were low and buyers were few, insufficient supply of agriculture inputs (fertiliser) which led to sharp increase of price.
Read more
Download here