A successful MVIWATA Annual General Meeting (AGM) with New Board of Directors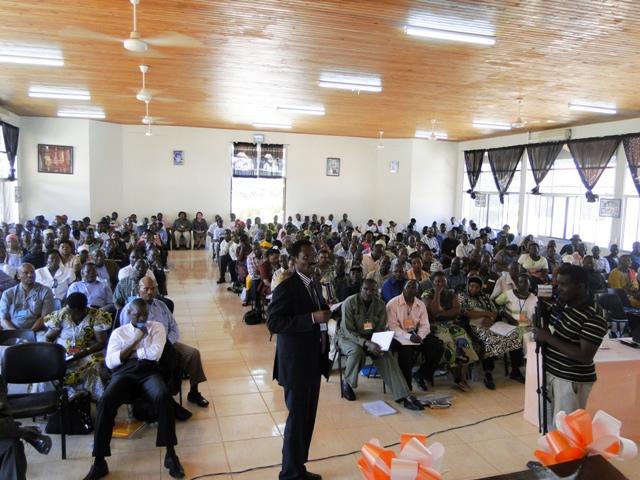 26/10/2011
On 24th to 25th October 2011, Mtandao wa Vikundi vya Wakulima Tanzania (MVIWATA) held its 16th Annual General Meeting (AGM) and National Workshop in Morogoro town. The AGM and National Workshop was held at CCT Women Training Center. The meeting was officially open by the Retired Regional Commissioner Hon. Stephen Mashishanga.
This constitutional meeting brought together 250 participants, who include members from regions of Tanzania and Zanzibar, and invitees from international and national partnership organizations and the government officials. Prior to the Annual General Meeting, on 24th October there was the National Workshop whose theme this year was the Private Sector and Public Sector Partnership in Development of Crops Markets. In last year the National Workshop's theme was "the East African Community Common Market; is an opportunity to Smallholder Farmers", while the 2009 National Workshop's theme was "Economic and Social Justice: the place of Small holder farmers."
The workshop was preceded with the MVIWATA's 16th Annual General Meeting whereby members of the AGM received and considered reports, audited report, plans and budgets. Apart from normal agenda of AGM, this meeting has have the special agenda of election of nine members of the Board of Directors of MVIWATA.
At the meeting Mr. Habibu Simbamkuti from Sanje Group in Msolwa Ujamaa Village, Kidatu Division, Kilombero District, Morogoro region, was elected as a chairperson of MVIWATA to replace Mr Yazid Ame Makame. Mr. Makame is a livestock keeper and a farmer from Dunga Bweni, central district, Unguja South, Zanzibar. He is a founder member of Mpapa farmers' network, Unguja.
Mr. Simbamkuti has been serving as a board member in the outgoing board for three years.
The full list of new Members of Board of Directors of MVIWATA for the next three years, 2011-2014 is the following; Mr. Habibu Simbamkuti (Chairperson), Mrs. Veronica Sophu (Vice Chairperson), Mrs. Esther Mally (Treasurer), and the members are Mrs. Amina Kazibure from Mtwara, Mr. Paul Joseph from Manyara, Mr. Haji Ussi Haji from Zanzibar, Mr. Projestus Ishekanyoro from Kagera, Mrs. Prisca John from Tabora and Mr. Joseph Kilowoko from Ruvuma.
Mr. Stephen A. Ruvuga, Executive Director sits in the Board as Secretary to the Board.
In his acceptance speech the Chairperson thanked all the members for electing the new board and promised to work hard with the leaders and all members in advancing the progress of MVIWATA.

For more visitwww.mviwata.org