The Seychelles Farmerís Cooperative opens a new butcher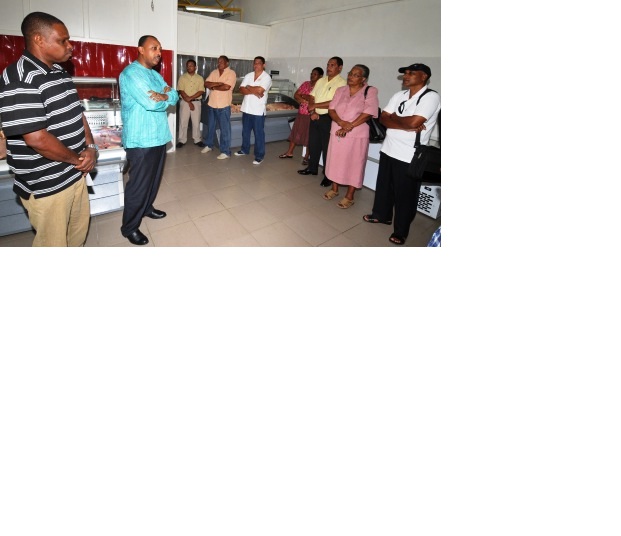 10-5-2011
The opening of the outlet, to be run by the Seychelles Farmer's Cooperative, comes at a time when all broiler farmers are back in production.
While officially opening the outlet at the Victoria market the Minister for Investment, Natural Resources and Industry, Peter Sinon, said he was glad that farmers had been able to overcome severe difficulties, notably competition from imports, to open an outlet to sell their own products, local pork, chicken,eggs and vegetables
He recalled that when he took over as natural resources minister eight months ago, most farmers were concerned about their survival. They were getting desperate as competition with imports grew fiercer.
"It occurred to me that few farmers, besides the chairman of their association, Serge Benstrong, thought that they could do anything to surmount the difficulties," he said.
Mr Sinon said he was confident that the farmers were now on the right track and that if the outlet is a success, this can be replicated elsewhere to other parts of Mahe and Praslin.
By eliminating the middleman, the products can also be sold at more competitive prices to consumers.
Mr Sinon also appealed to the patriotism of Seychellois to consume more local products and support the national economy.

He said at a time of steadily rising food prices on the world market, Seychelles can achieve self-sufficiency in pork, chicken and eggs.
Mr Benstrong said as times got tough, it was obvious that it was necessary to cut the intermediary in the supply chain.

He said that though Seychelles could not compete with large agricultural countries, who benefit from economies of scale, subvention and expertise, we could still benefit by offering better quality products, well packed.
Mr Benstrong added that local consumers should also be aware that local products are of better quality than imports, which are often health hazardous.
"Our farmers, for their part, should strive to be more efficient and improve standards in livestock and crop production," he said.
With all 10 broiler farmers back in production, production should be around 32,000 chicks starting this month.
The new outlet is sited on four disused butcher's shops, obtained from the Seychelles Agricultural Agency. The place has been renovated with funds from the Agriculture Trust Fund, which is the levy imposed on imported broiler.
The outlet offers whole chicken at R40 per kg. Most chicks are between 1.4 and 1.6 kg, which should amount to about R55 per chicken.
Going by weight, local chicken is cheaper than imports. Most retailers purchase from importers at over R40 per kg and then add their own mark-ups.
Chicken are also retailed in parts, such as legs, wings, breast.
Pork is also available cut in various portions, such as chops, pork leg, loin, spare ribs, trotters and belly – all between R60 and R80 a kg.
It appears that broiler chicken imports peaked at around the Christmas-New Year season, but has since gone down, as prices have also shot up, on account of various factors.
J.L.