Seychelles farmers beef up marketing drive - 28.02.2011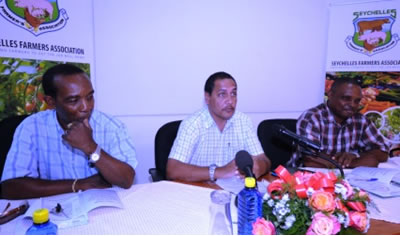 09-03-2011
Nearly all poultry and pig farmers are back in operation, and the first batch of broilers to be fattened in several months were due for slaughter this week.
Seychelles Farmers' Association (SeyFA) chairman Serge Benstrong said advertising locally produced chicken on SBC TV has yielded good results. "More consumers are now aware that it is cheaper to buy local products than imports," he said at a farmers' meeting last Friday.
The 45-second TV spots, produced by MacDonald Pool of Entertainment Group Seychelles focused on the fact that local broiler costs less by weight than imports. Mr Benstrong said there will be a follow-up, with other adverts produced
by the same company.
At the signing of agreements between SeyFA and various partners, principal secretary for natural resources Michael Nalletamby said the prevailing global uncertainty makes all of us take stock of what is to be done to cushion ouselves from the consequences of high vulnerability to global events. "While it is generally accepted that Seychelles will always depend on imports for most of its consumption, we do not need to – and in fact we cannot afford to – depend totally on imports," he said. Mr Nalletamby stressed that the very limited agricultural land we have needs to be productive. "We can ill afford, in these perilous times, the luxury of such scarce agricultural land being under-used, put to uses other than agriculture or abandoned," he said.
Meanwhile, SeyFA has signed agricultural partnership agreements with various businesses in its bid to boost sales. Mr Benstrong said these are, notably, the Seychelles Trading Company, the Retailers' Association and Cassis Supermarket. SeyFA has also secured three stalls at Victoria market, facing Benezet Street, which it is converting into its own sales outlet. This is also being used to process meats before marketing.
The association also has the support of the Liaison Unit of Non-governmental Organisations of Seychelles (LUNGOS), whose chairman Bernard Elizabeth was present at Friday's meeting.