Is this another empty promise to small scale farmers?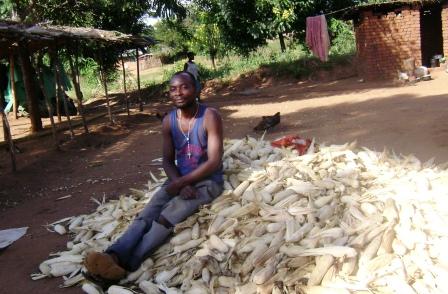 2/10/2009
Is this another empty promise to small scale farmers?
African
Heads of State and Government of the African Union have recommitted their countries to the Maputo Declaration of allocating at least ten (10) percent of their annual national budgets to the agriculture sector by 2015. This is to articulate the important role of agriculture in national development strategies for adequate resource allocation.
The
Sirte declaration on investing in agriculture for economic growth and food security,
a
dopted by the Thirteenth Ordinary Session of the Assembly in Sirte, Libyan, argues African countries to scale up efforts to accelerate the implementation of the CAADP agenda at the country level, in particular the organization of country roundtables and the signing of CAADP compacts,
The declaration by the African head of states says that African leaders are
aware
and
concerned
that Hunger is a drain on economic development, a threat to global security, a barrier to human dignity and improved standard of living and therefore every effort at national, regional, continental including global level should be explored as a matter of urgency to achieve the MDG target on reducing Hunger in Africa.
Part of the declaration says that leaders are aware
that smallholder friendly value-chain development and access to markets and to financial services should be key elements to enhancing financial sustainability and growth of the agriculture sectors and related wealth creation,
In Sirte city, African leaders promised to m
eet their individual and collective responsibility and commitment to provide necessary leadership on comprehensive and Africa-wide approaches to address the root causes of poverty and hunger and accelerate progress towards achieving the growth and budgetary targets set out in the CAADP Agenda and Framework.
They said that they are knee to s
upport relevant policy and institutional reforms that will stimulate and facilitate accelerated expansion of agriculture related market opportunities by modernizing domestic and regional trading systems, removing obstacles to trans-border trades, and increasing access by smallholder farmers to inputs and the necessary commercial infrastructure and technical skills to fully integrate them into the growing value chains.
Most of the African states failed to meet the deadline of increasing national budgets on agriculture to 10% by the year 2009. The declaration was made in 2003 in Maputo by African Union and was adopted in 2004 in Tanzania by SADC countries as the Dar es salaam Declaration of Food Security and rural Development.
Some countries that are above the CAADP 10% target are Burkina Faso (20%); Niger (15%) Guinea (13.5%); Malawi (12%), Ethiopia (11%); Malawi (11%), Mali (10.5%) and Ghana (10%).
Countries in the Eastern and Southern Africa that are above the 5% target are Mozambique, Madagascar, Zambia, Zimbabwe, Tanzania and Namibia. Those which are below the 5% target are Uganda, Swaziland, Kenya, Burundi, Botswana, Rwanda, Lesotho, Mauritius, and the Democratic Republic of Congo (DRF).