ESAFF AGM approves new 10 years Strategic Plan Framework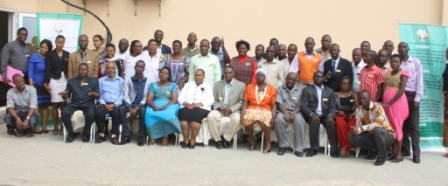 15/05/2016
ESAFF AGM approves new 10 years Strategic Plan Framework
*Seeks to holistically trigger increment of smallholder farmers' capacities
ESAFF held annual general meeting (AGM) mid May 2016, with one of the highlights being overwhelming approval of a ten year strategic plan, that will take the small farmers' body to new heights.
According to ESAFF Secretary General Ms Phakoe Mamalefetsane the document signposts seed security insecurity (erosion of agro-biodiversity); food and nutrition insecurity; limited access to markets and unfair trade, as among issues to be addressed responsively.
Threats to farmer access to and ownership of land is land grabbing that is taking place, land tenure insecurity, inadequate financing of agriculture, are also highlighted in the plan, she noted.
ESAFF will also in the next ten years (2016-2026) address cross-cutting issues including stakeholders' engagement and its own organisational and institutional development.
The document key result area one is "Agro-ecology, seed security, food and nutrition security" where the strategies include -Capacity building (training, exchange visits, demonstration plots, documentation and sharing good practice; experimentation and innovation; seed multiplication; campaigning advocacy and lobbying, Mamalefetsane disclosed.
The expected outcome will be increased capacities of small scale farmers to farm ecologically and produce adequate food; adequate provision of agricultural extension services and research; increased availability of tools, equipment and resources for agroecology; improved availability of appropriate and quality seed for small scale farmers and their ecological environments; improved food and seed security levels and supportive food and nutrition policies.
Other key result area outlined with the outcome are: Wealth creation (including value addition and marketing); land, agriculture and livestock policies and budget allocation and trade; organisational and institutional development and cross-cutting issues (climate smart agriculture, women and youth, HIV/Aids, among others).
The ESAFF AGM also approved annual work plan 2016/17. The AGM mandated EXCO and Secretariat to start implementing the two vital documents, as they await final approval of TGM in 2017.