Mr. Wesonga: Agriculture key for food and human security in EAC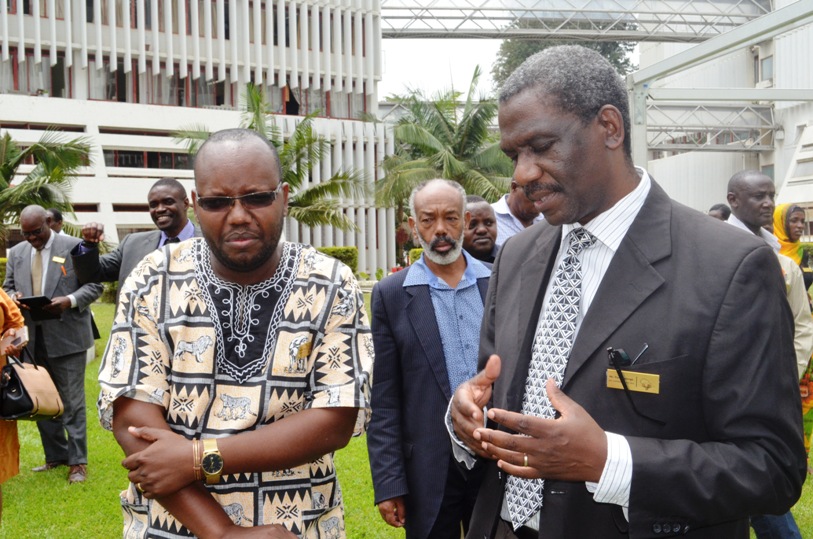 10/02/2016
Mr. Wesonga (in a tie right): Agriculture key for food and human security in EAC
# Opportunity for the region to contribute to global needs, make smallholder farmers improve livelihood
Arusha, TANZANIA
Focused and inclusive implementation of EAC CAADP Compact is the way forward to transform agriculture sector to ensure food security and human security in the region.
Mr. Timothy Wesonga, a senior official at EAC Secretariat, Directorate of Agriculture made the comments while addressing EAC Small Scale Farmers' Summit 2016, which sought to look at EAC CAADP Compact, Domestication of the Malabo Declaration, and Non-Trade Barrier (NTB) and their impact to small holder farmers.
CAADP, an Africa Union initiative stands for Comprehensive Africa Agriculture Development Programme and and East Africa Community (EAC) has institutionalised it implementation at the regional bloc level.
"A focused agenda on agriculture in EAC, followed by actions and commitments/implementations will transform the sector to desired levels," he noted.
Focus on the sector has borne fruits in Rwanda and other EAC partner states if they follow suit, it would be the same, he assured.
EAC wants to have a vibrant and dynamic agriculture sector as question of food security had transcended to human security, he noted underscoring the importance of the sector.
He informed that agriculture and food security is among the major areas of East Africa Community treaty areas of cooperation.
He assured that the partner states were committed to EAC CAADP Compact which has been included in the community's agriculture development policy, strategies and action plan.
The official assured that for success partnership with famers representatives and groups among others was an embedded component in the processes of implementation.
Regarding Malabo Declaration, he informed that the EAC Heads of State decided to commit with informed background but to ensure implementation drastic changes were needed.
"If we are not going to make a drastic change we won't make it. The population is growing, the demand for food is increasing, environmental challenges are there, our productivity is low, but analysed worldwide we have better fields of land. Why don't we become wise and make use of this, sell the food and transform the area and be able to contribute something to the global needs?" he posed.
He said EAC regional overall focus of the current development strategy was to improve competitiveness to faster and sustainable growth and move the region closer to newly industrialised region. Food security, he noted was a key focus for the region to reach its overall goals, giving a huge opportunity to smallholder farmers to make their marks.
When closing the EAC farmers summit 2016, he appealed to all parties in the agriculture sector both in public and private sector to be more proactive in pushing for a better East Africa and Africa in general.