Smallholder farmers: Legal framework for EAC agriculture per Malabo Commitments urgent necessity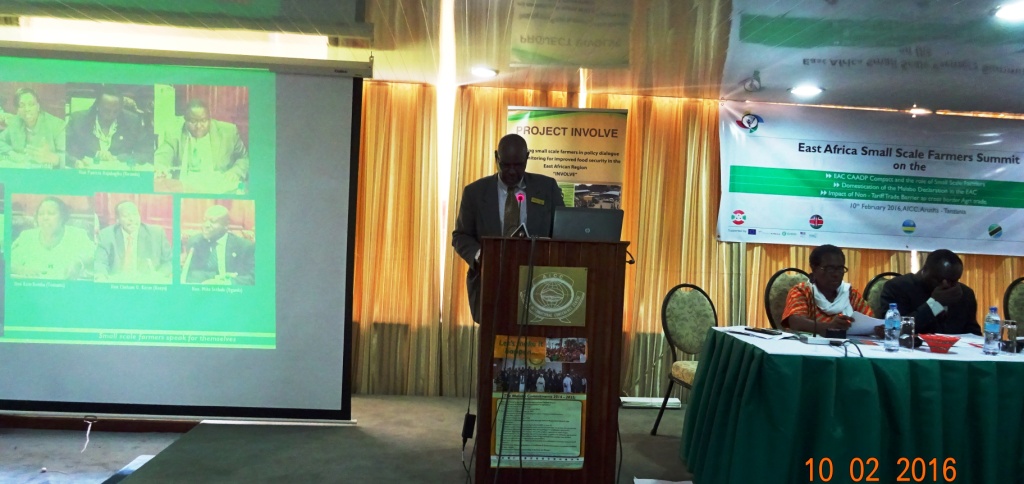 10/2/2016
ARUSHA, TANZANIA
# Without a legal framework full domestication of Malabo Declaration unattainable for most states
East Africa Community Member states recommitment to fulfill the demands of Malabo Declaration is urgently needed, which would go along way to put in place an improved environment for millions of small farmers to get out of poverty.
Mr Alfayo Kuruna, the chairperson of Kenya Small Scale Farmers Forum (KESSFF), speaking at the EAC Farmers Forum 2016, held in Arusha- Tanzania, decried lack of proactive commitment in fulling the demands of the declaration.
The lackadaisical commitment is manifested in the over 10 years of the Maputo Declaration, and now Malabo Declaration as only Rwanda has consistently increased agriculture budget above the 10% and ensured agriculture annual growth by over 6%, while the other 4 member states are yet to reach the minimal threshold .
KESSFF chair observed that there was lack of political will and good intention in fulfilling what African governments signed in Maputo in 2003 and in Malabo, Equatorial Guinea in 2014.
The challenge can be dealt with by introducing a strong legal framework that would ensure EAC states abide and implement Malabo Declaration.
Calling for EAC to urgently domesticate the Malabo Declaration, he said it would ensue its commitment are attained promptly.
"The EAC Malabo Domestication will bring in renewed commitments, increased awareness among stakeholders, accountability and ownership as well as legal mechanisms to ensure that oversight is exercised to fulfil the 7 commitments of Malabo," uttered Mr. Kuruna who is a smallholder farmer from Kenya.
He added that "If Rwanda can do it, definitely all other EAC members States can." Rwanda has reached 16% budget allocation to the agriculture sector and changes are noticeable, he noted.
Mr. Kuruna had earlier urged EALA Committee on Agriculture, Tourism and Natural Resources (ATNR), Hon. Christophe Bazivamo to support the call by ESAFF for the EAC to Domesticate the Malabo Declaration for more effective implementation.
If the region adopts the declaration and possibly develops a protocol, it will draw on implementation momentum of the Malabo Declaration.
KESSFF chair called upon East African stakeholders including farmers, pastoralists, fishers, private sector operators in agriculture, agribusiness and agro-industries, civil society organisations and financial institutions to rally behind the realisation of the provisions of Maputo Declaration.
Mr. Kuruna also called for the formation of an East African Agricultural Advisory Council (EA-AAC) within the EAC secretariat in order to speedup harmonisation of agriculture development policies in the EAC region. The EAAAC could comprise EAC academia, policy makers, farmer leaders and law makers.
In response, the head of the EALA Committee on Agriculture, Hon. Bazivamo said that his committee was ready to support such a drive. He argued small scale farmer to petition the regional parliament or organise a joint workshop with ATRN that will come with a joint resolution to be debated by the EAC parliament.
The summit was attended by smallholder farmers from the EAC countries: Burundi, Kenya, Rwanda, Tanzania and Uganda.
Speaking at the same event, the East Africa Civil Society Forum (EACSOF) Chairman, Mr. Morris Odhiambo said that his organisation will ensure that deliberations by farmers get to the EAC General Secretary Hon. Richard Sezibera through the EAC Secretary General Forum to be held in Dar es salaam in March 2016.