Gender balanced leadership takes charge of ESAFF Zambia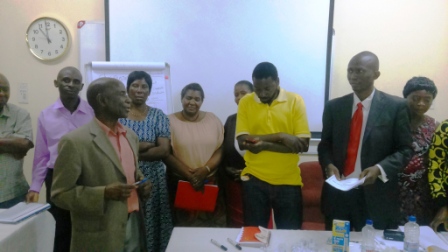 10/10/2015
Lusaka
It is not every day we have a gender balanced leadership in the boardroom. But for ESAFF Zambia, it is a dream come true.
The composition of the board elected to lead the organisation in the next three years is comprised half by women and the other half by men.
Annual general meeting held in Lusaka saw Mr Kenneth Chipoya from Lufwanyama District elected as the new chairman.
The new chairman is confident the organisation will effectively advocate for favorable policies and resources for smallholder farmers.
At the same time, he said "We will work together to increase our membership to cover all regions in Zambia."
Speaking with confidence, he said failure was not an option. Kenneth assured that his leadership would capitalize on positive issues brought about by the past leadership of ESAFF Zambia, to move forward.
The former leadership under Mzee Mubanga Kasakula led ESAFF Zambia since its inception.
The full new leadership of ESAFF Zambia comprises of the Vice Chairperson – Ms. Mary Sakala, General Secretary – Mr. Bornface Hangala, and the Secretary for Finance – Mr. Dickson Siyachongo. Others are Secretary for Advocacy and capacity Building- Ms. Grace Tepula, Secretary for Communication –Mr. Abel Yubana as well as Ms. Gertrude Chipeta, Mr. Frank Mukelabai, Ms. Anne Mutale and Ms. Winfridah Kunda as Board Members.