Another woman farmer elected to head ESAFF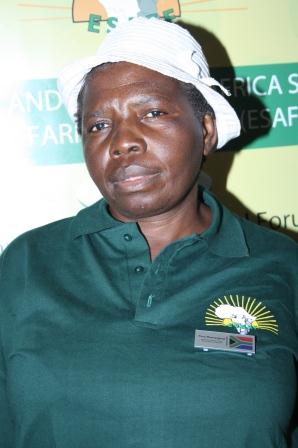 24/06//2015
A South African farmer leader has been elected as the new vice chair of Eastern and Southern Africa Farmers Forum (ESAFF).Ms. Flora Maswanganyi, ESAFF South Africa chairperson since 2014, was elected to the helm by ESAFF Annual General Meeting, held in Tanzania last June, which was attended by 14 national farmer leaders.
The farmer leader from Polokwane in South Africa after her election promised to work with humility with all leaders of ESAFF. Ms. Maswanganyi said leadership was all about working together. "I am committed to working with all other farmer leaders to ensure that the rightful space of farmers in policy processes is attained," she said. Ms. Maswanganyi was elected after garnering more votes than the other contenders namely Mr. Henry Jere (NASFAM - Malawi) and Mrs Elizabeth Mpofu of Zimbabwe (ZIMSOFF).
The ESAFF AGM also approved the annual plan of action 2015/16 and budget worth Euro 743,409 after scrutinising the Chairman's report 2014/2015.
In his concluding remarks to the AGM, ESAFF Chairman thanked members for a peaceful and democratic election and congratulated Ms. Maswanganyi for being elected the Vice Chairperson. Mr Serge Benstrong promised to work with her and other leaders to make ESAFF stronger. He reminded that it was the duty of every member to enhance their national chapter for a stronger ESAFF.