Project seeks to harness the power of small scale farmer to enhance food security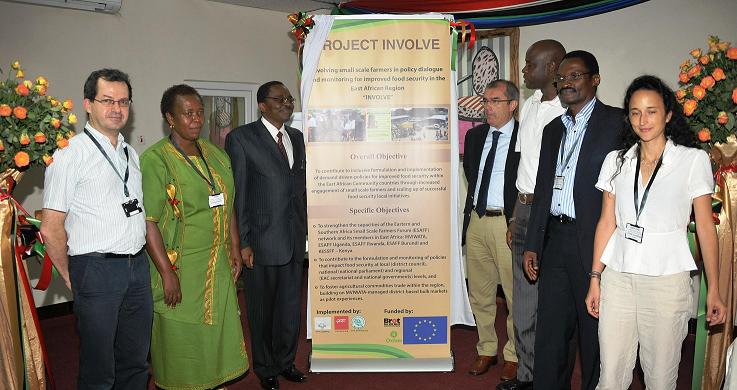 01/05/2013
Dar es salaam: Three civil society organizations have joined hands to implement a 1.8 Million Euro project that seeks greater farmer engagement in enhancing food security in East Africa.
ESAFF, MVIWATA and GRET are implementing the project, which is 80% funded by the European Union (EU) for 42 month. The project was launched last March by Tanzania's Deputy Permanent Secretary- Ministry of East Africa Community, Mr Uledi Mussa.

Mr. Mussa called on stakeholders to take part in modernizing agriculture and lauded the project as a step in the right direction. "This is a major stepping stone in policy engagement between farmers at national and regional levels within the EAC," he said. He called the initiative a source of new alternatives to promote food security within the region.

The European Delegation, at the launching ceremony was led by Mr Gialuca Azzoni. He said EU was happy to fund the initiative so as to enable small holder farmers to participate meaningfully to policy engagement within EAC.

He said that small scale farmers face challenges in gaining better markets and are excluded within the current supply and value chains, thus the importance of working to change the situation.

He called on support for small scale farmers from production up to accessing markets through development of markets. "Cross border trade need to be facilitated and allow free movement of people and agricultural goods," he said adding that agriculture is a key sector to food security and this is supported by small scale agriculture.

At the same time he said there was a need for policy advocacy engagement, improved regional integration and policy harmonization to foster food security within the region.

The project will benefit small scale farmer organizations who are ESAFF members in Burundi, Rwanda, Uganda, Kenya and Tanzania. This will be done through enhancing their involvement in policy processes from grassroots to national and the East Africa Community level. The project will also strengthen farmers' access to fair agro market in the region building on MVIWATAs successful project on bulky market access for family farming in Tanzania.

To strengthen the capacities of the ESAFF network and its members in East Africa to contribute to the formulation and monitoring of policies that impact food security at local (district council), national (national parliament) and regional (EAC secretariat and national governments) levels, and to foster agricultural commodities trade within the region, building on MVIWATA-managed district-based bulk markets as pilot experiences.

The launching was attended by the Ministry of Agriculture, Food Security and Cooperatives officials, the European Union Officials, Ministry of EAC, media, other CSOs and farmer leaders as well as ESAFF chapter members from 10 countries. Others present were MVIWATA, ESAFF Secretariat Tanzania, Kenya (KESSFF), Uganda (ESAFF Uganda), Rwanda (ESAFF Rwanda), Burundi (ESAFF Burundi), Zimbabwe (ZIMSOFF), Lesotho (ESAFF Lesotho), Madagascar (CPM), Malawi (NASFAM), Seychelles (SeyFA) and South Africa (ESAFF South Africa).